Has India begun hating cartoons?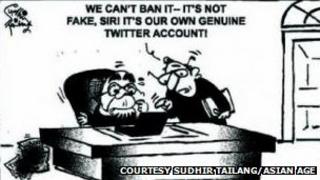 "There is a new intolerance in India," cartoonist Sudhir Tailang tells me on a phone line from his hotel room in Berlin, where he is holding an exhibition of his work.
"It's the intolerance of politicians, of the system, and it's a recent phenomenon."
We are talking about the arrest of anti-corruption cartoonist Aseem Trivedi on charges of sedition in the city of Mumbai over the weekend. The police acted on a complaint lodged by a lawyer saying that his cartoons mocked the country and its constitution.
Mr Tailang should know. He's one of India's top cartoonists, and his work has featured in leading publications for the last 30 years.
He says he is surprised by the new intolerance. Time was, he says, when India's starchy politicians had a robust sense of humour and even asked him for originals of cartoons ruthlessly lampooning them.
His favourite story involves Jaswant Singh, a taciturn former foreign minister under the last government led by the Bharatiya Janata Party (BJP).
When Mr Singh returned to Delhi from the Afghan city of Kandahar along with the passengers of a hijacked Indian Airlines plane who had been exchanged for militants, Mr Tailang drew a cartoon of Mr Singh in "Taliban-like attire" carrying a rocket launcher on his shoulder and entering the then prime minister Atal Behari Vajpayee's room.
"The next day, Mr Singh called me up and asked for the original cartoon," Mr Tailang says. "He said he wanted to frame it and put it up in his study."
'Very cute'
Mr Tailang asked him why he liked the savagely acerbic cartoon.
"I like it," Mr Singh said, "because I am looking very cute in Taliban clothes."
My other favourite Sudhir Tailang story is the one he tells about Murli Manohar Joshi, a pugnacious BJP politician and a former senior minister.
"One day, his office called me up saying Mr Joshi was very angry with me. When I asked Mr Joshi why, he said. 'Why are you ignoring me? You haven't drawn me for the last six months. Have I become so irrelevant in politics?'"
So, have Indians become more intolerant?
On the face of it, yes. In recent months, the chief minister of West Bengal state sent a professor to prison for emailing cartoons critical of her, there was a massive row over old cartoons showing Dalit icon BR Ambedkar and the government has been talking about curbs on social media sites like Facebook and Twitter.
Mr Trivedi's "offending" cartoons are apparently ones which, in the words of the complainant RP Pandey, "ridicule the Indian parliament, the national emblem and the national flag", and not ones that make fun of politicians.
One of them is Mr Trivedi's take on the national emblem, where three wolves replace the lions, and the inscription reads Bhrashtamev Jayate (Long live corruption).
All this apparently violates Indian laws which prohibit the use of the national emblem for any trade, business, profession, patent, trademark or design unless cleared by the federal government. The punishment could stretch to two years in prison or a 5,000-rupee ($90; £56) fine.
Cartoonists like Mr Tailing believe that such laws are an anachronism in a modern democracy, and nobody should be sent to prison for lampooning the national emblem or national flag.
They also warn of a silent return to the days of the state of emergency of the mid-1970s when civil liberties were suspended in India and news and cartoons regularly censored.
"There seems to be an undeclared emergency in India now, a masquerade of democracy," Mr Tailang says.
Many say you can criticise a cartoon for its content, but to ban one and send the cartoonist to prison does not befit a country that tirelessly promotes itself as the world's biggest democracy.
"It's time to grow up," says Mr Tailang. "We are a 65-year-old democracy, but we are behaving like children."