Tributes paid to Indian 'milkman' Verghese Kurien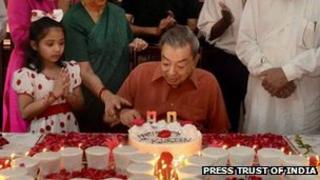 Tributes have been paid to Verghese Kurien, the man credited with revolutionising milk production in India, who died aged 90 in the western state of Gujarat on Sunday.
Called the "Milkman of India", he was the founder of the cooperative dairy movement in the country.
Dr Kurien was responsible for creating Amul, the biggest milk product brand in India.
India accounts for 17% of the world's total milk production, reports say.
Dr Kurien, a key figure in India's transition from milk deficit 40 years ago to the world's largest milk producer, died of old age related ailments. his family said.
The president of India's ruling Congress party Sonia Gandhi said Dr Kurien was a man of "extraordinary vision, whose achievements in the dairy industry empowered hundreds of thousands of farmers, created a model of milk cooperatives that has inspired millions of others".
PM Manmohan Singh said Dr Kurien's "greatest contribution was to give a position of pre-eminence to the farmer".
Amrita Parel, chairman of India's National Dairy Development Board, described Dr Kurien as a "visionary who created institutions with single-minded determination".
Dr Kurien stepped down as the chairman of the Gujarat Cooperative Milk Marketing Federation (GCMMF) in 2006 after differences with other members of the federation.