India's SM Krishna to seek speedy Pakistan Mumbai trial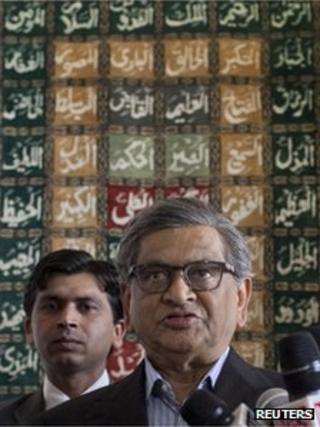 India's foreign minister is on a three-day visit to Pakistan where he is expected to press for a speedy trial of people held there in connection with the 2008 Mumbai attacks.
External Affairs Minister SM Krishna said ahead of his trip that India had given "more than adequate" evidence.
Pakistan must address India's "terrorism related concerns", he said.
Mr Krishna is due to hold talks with his Pakistani counterpart Hina Rabbani Khar on Saturday.
The Mumbai attacks claimed 166 lives. Nine gunmen were also killed.
India blamed the attacks on Pakistan-based militants and broke off peace talks. The talks resumed last year and relations have been steadily improving.
In 2009, Pakistan arrested and charged seven people, including suspected mastermind Zaki-ur-Rehman Lakhvi, who is alleged to head the Pakistan-based militant group Lashkar-e-Taiba. But the trial has not made much headway.
'Don't expect much'
Correspondents say there are no high expectations from the foreign minister's visit.
On Thursday, even Mr Krishna said the Indian government did not expect too much from his upcoming visit to Pakistan.
"We don't expect too much from my visit to Pakistan. It is only an intention of the government of India and the people of India to have normal relations with our neighbour," Reuters quoted Mr Krishna as saying.
During the visit, the two sides are expected to review the progress made in the peace process so far and to chalk out the path ahead, reports said.
The countries are likely to sign a new liberalised visa agreement which is expected to boost people-to-people contact.
Mr Krishna said he would also urge Pakistani authorities to pardon and release Indian national Sarabjit Singh who is on death row in Pakistan.
Relations between the two countries have been fraught over the past several decades and the neighbours have fought three wars since 1947.