India parliament ends in deadlock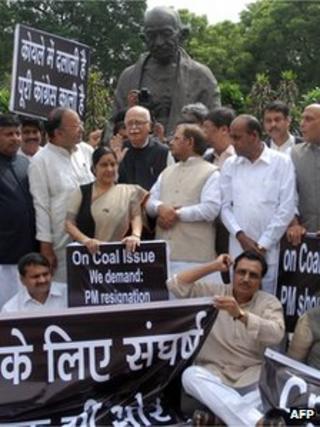 The latest session of India's parliament has ended without resolving deadlock which paralysed it for days.
The impasse was caused by an uproar over alleged corruption in the allocation of coalfield concessions.
The opposition BJP wants the government to cancel the awards and hold an independent probe.
PM Manmohan Singh said the "disruption" of parliament by the opposition was a "grave violation of norms of parliamentary office".
Earlier this week, police raided companies which allegedly misrepresented facts prior to being awarded coalfield concessions.
State auditors say India lost $33bn (£20bn) awarding coalfields at below market rates in the years up to 2009.
The auditors' report does not mention Prime Minister Manmohan Singh, but BJP leaders say he must step down because he had direct responsibility for the coal ministry when most of the awards were made.
Mr Singh denies any wrongdoing and has refused to resign.
"The opposition saw fit to demand my resignation before parliament was even allowed to take a view on the auditor's report," he said after the session concluded on Friday.
BJP spokesperson Sushma Swaraj said the opposition had raised the issue of coal allocations in the "interests of the nation" and that stalling the parliament was one of the ways to oppose the government.
Parliament was deadlocked for 13 of the 20 days of the monsoon session.
Some 30 bills were due to be considered and passed during the session, but very little legislative work was done.
"This session is likely to be remembered for the work that was not done," the chairman of the upper house, Hamid Ansari, said.