China minister gives cash 'tips' to Indian pilots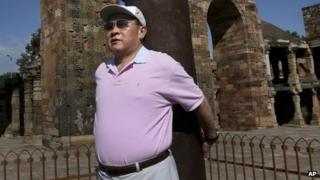 Two Indian air force pilots who flew the visiting Chinese defence minister from Mumbai to Delhi were given 100,000 rupees ($1,788; £1,124) as "tips".
The pilots were given envelopes containing the money by General Liang Guanglie who returned to China on Thursday after a four-day India visit.
Surprised by the "unusual gift", the pilots informed their superiors.
Officials said the money would be deposited in the government gift chest along with other official gifts.
Reports said Gen Liang was "pleased" with the way the pilots handled the flight in the stormy monsoon weather.
Officials said the Chinese minister was possibly not briefed properly on Indian protocol and customs which forbid government officials from accepting money as gifts.
Gen Liang, the first Chinese defence minister to visit Delhi in eight years, also did some sightseeing during his tour.
He met Indian Defence Minister AK Antony after which the two countries announced plans to resume joint military exercises after a gap of four years.
Relations between India and China have been uneasy - the two countries dispute several Himalayan border areas and fought a brief war in 1962.