India's Kaushik Basu named World Bank chief economist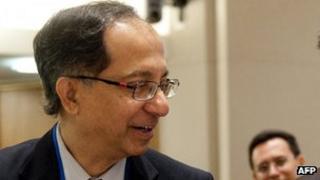 The World Bank has appointed Kaushik Basu, who recently served as the economic adviser to the Indian government, as its chief economist.
Mr Basu "brings first-hand experience from a developing country and will be a terrific asset to the institution," the Bank said in a release.
He begins his term on 1 October. He replaces Justin Lin of China, whose term expired on 1 June.
Mr Basu is on leave from his position as professor at Cornell University.
"Having worked in the [Indian] ministry of finance, in addition to his impressive academic achievements, Kaushik is uniquely suited to help us offer evidence-based solutions and advise to client countries and provide innovative excellence in leading our development research," World Bank group president Jim Yong Kim said.
Mr Basu holds a doctorate from the London School of Economics and founded the Centre for Development Economics at the Delhi School of Economics in 1992.
He has written several books and also used to write a column for the BBC news website.
Raghuram Rajan, former chief economist of International Monetary Fund, has replaced Mr Basu as Indian government's chief economic adviser.