IPL's Deccan Chargers cricket team up for sale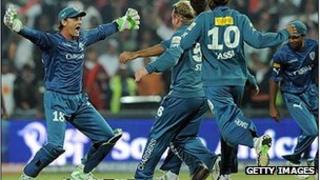 India's cricket board is seeking buyers for the troubled Indian Premier League (IPL) cricket team Deccan Chargers, according to an advertisement issued by the owners of the team.
Bids for the team, which won the championship in 2009, will be accepted and the buyer announced next week.
Media reports suggest that the sale of the team has been prompted by a financial crisis facing its owners.
The IPL is considered to be the world's showcase for Twenty20 cricket.
Top Indian and international players take part, contributing to what is the world's richest cricket tournament.
The newspaper advertisement put out by Deccan Chronicle Holdings Limited (DCHL), the owner of Deccan Chargers, on Thursday said bids would be invited and the new owner announced on 13 September.
The chairman of DCHL said in an interview earlier this month that he was keen on selling the team to tide over a financial crisis.
"We will sell our cricket team Deccan Chargers, which will sort out most of the immediate requirements," T Venkatram Reddy told the Economic Times.
DHCL is one of India's biggest media groups with major interests in the newspaper business.
After winning the championship in 2009, Deccan Charges have performed erratically - the team finished eighth among nine teams last season.
In 2009, Rajasthan Royals, another IPL team, sold a stake in the franchise to Bollywood actress Shilpa Shetty and UK-based businessman Raj Kundra.