India and China to hold joint military exercises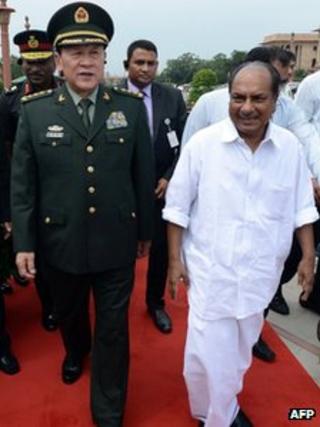 India and China have announced they will resume joint military exercises after a gap of four years.
The decision came after India's Defence Minister AK Antony met his Chinese counterpart General Liang Guanglie.
Gen Guanglie is the first Chinese defence minister to visit Delhi in eight years.
Military exercises between the two countries started in 2007 but were put on hold after 2008 following a series of diplomatic spats over visa issues.
The two countries dispute several Himalayan border areas and fought a brief war in 1962.
"India and China today [Tuesday] reached consensus on a wide range of issues relating to defence and military exchanges and cooperation to be conducted this year and beyond," Indian defence ministry said in a press release after the meeting.
"At the 90-minute delegation-level meeting between Mr Antony and Gen Guanglie, it was agreed by the two sides to conduct the next round of joint military exercises at the earliest," the release added.
Gen Liang, who is on a four-day visit to India, told reporters that he had a "candid and practical discussion" with Mr Antony.
"We have reached a consensus on high-level visits and exchange of personnel, maritime security... and cooperation between the two navies," he said.
But relations between India and China have been uneasy.
The Asian giants have held numerous rounds of talks to resolve their long-running border disputes, but have been unsuccessful.
The presence of exiled Tibetan spiritual leader the Dalai Lama in the Indian hill town of Dharamsala is also a source of tension between the nations.