India receives bag found in French Alps after 46 years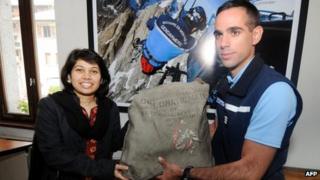 India has received a bag of diplomatic mail found recently on Mont Blanc in the French Alps, close to where an Air India plane crashed 46 years ago.
Satwant Khanalia, an Indian embassy official in Paris, accepted the bag from the French authorities at Chamonix town on Monday, reports said.
A mountain rescue worker and his neighbour recovered the jute bag after some tourists spotted it on a glacier.
The Air India plane flying from Mumbai to New York crashed in January 1966.
All 117 people on board died. Among the passengers was top nuclear scientist Homi J Bhabha, known as the "father" of India's nuclear programme.
'Long journey'
The bag has markings saying "Diplomatic mail" and "Ministry of External Affairs", as the foreign ministry is called in India.
Ms Khanalia, who took possession of the bag, said it "has made a long journey".
At "first sight they seem to be old newspapers" but now they have "historical value", news agency AFP quoted her as saying.
The bag was recovered by mountain rescue worker Arnaud Christmann and his neighbour Jules Berger on 21 August.
"Some tourists came and told us they had seen something shining on the Bossons glacier," Mr Christmann said last week.
He said the diplomatic bag was "sitting as if someone had just placed it there".
The bag was handed over to the police in Chamonix town at the base of the mountain.