Why Sachin Tendulkar needs to extend his Test career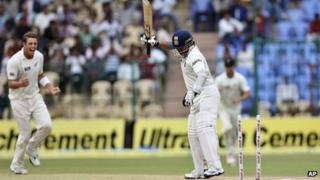 The fox, in philosopher Isaiah Berlin's famous essay, knows many things.
The hedgehog knows one big thing. Sachin Tendulkar, the very definition of the hedgehog, cannot be unaware that his illustrious career is winding down.
But - despite his failures against New Zealand - it cannot be the end. Yet.
Yes, he has slowed down. Yes, he was bowled three times in his last three innings. Yes, his failures were not against the greatest bowling attack in the world.
But only those who simplify the game into an exercise in painting-by-numbers (a speciality of Indian television channels) can believe that all batsmanship can be reduced to such packages as "if you are bowled often, you are old and must quit".
His dismissal in the first innings at Bangalore resulted from indecisiveness. It wasn't the wrong choice of shot so much as that split second of inactivity while he made up his mind.
Self doubt
In the second innings, he twice played the square drive against Tim Southee that suggested he had overcome his self doubt.
Yet, unusually for a man who once cut out all drives on the off side while making a double century in Australia, Tendulkar attempted to play across the line.
This had nothing to do with his age or fitness - it was the dogged but dangerous attempt by a proud man to slaughter the demons within, and to be seen to be slaughtering them.
This is not to suggest that Tendulkar has no problems.
He is 39, and has been playing international cricket for 23 years. He has had career-threatening injuries, went through a phase when he could not lift a mug of coffee because of his injured elbow, and his various bones have been analysed threadbare in the national media.
And now, with the retirement of Rahul Dravid and VVS Laxman, he needs to lead yet another phase of revival in Indian cricket.
There are seven home Tests to follow this New Zealand series and tours to South Africa, New Zealand and England to come.
Now that the brouhaha over his 100 centuries has died down, Tendulkar can take a good, hard look at his career.
He has certainly overstayed his welcome in one-day cricket. There is nothing to prove in that format, and the focus ought to be on Test cricket.
Recalibrate
Despite the 2-0 win against New Zealand, India's batting - Virat Kohli apart - does not inspire confidence. It would be the height of irresponsibility by the selectors to let Tendulkar go in the same season as Dravid and Laxman.
The Englishmen arrive next month, and there might be call to drop Tendulkar down to number five, from where he might possibly control the innings.
With Cheteshwar Pujara settling in nicely at number three, a promotion for India's best batsman of the past year and more, Virat Kohli, would allow Tendulkar to recalibrate his game without the pressure of having to carry the batting on his shoulders.
Technically, he will benefit from a chat with the man who held India's middle order together in his time - Gundappa Viswanath.
Since the recent dismissals have resulted from poor shot selection, Vishwanath would advise him about the value of playing straight as you grow older.
Vishwanath, one of India's most creative batsmen, changed his guard from leg to middle and consciously played straighter towards the end of his career.
Although he didn't make huge scores, Tendulkar did look good while batting in England and Australia, and he is at the stage in his career when he simply has to make the right choices.
No more one-day cricket; restricted appearances in the IPL. And all energies focused on Tests.
That will revive both his career as well as the fortunes of Indian cricket. Incredibly, he has more to offer.
Suresh Menon is Editor, Wisden India Almanack