India coal scandal: Hundreds protest against PM Singh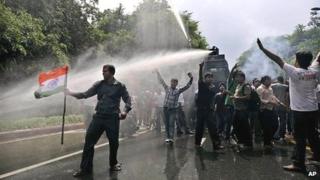 Police in the Indian capital Delhi have baton-charged hundreds of anti-corruption protesters angered by the government's sale of coalfields without open bidding.
An auditors' report last week said the mis-selling cost India $33bn (£20bn).
Police also used water cannon and tear gas to turn back protesters trying to reach the house of Indian Prime Minister Manmohan Singh
Opposition calls for Mr Singh to resign have deadlocked parliament.
In the report last week, government auditors said private companies had made "windfall gains" by the allocation of coal mining rights from 2005-9 in a process that "lacked transparency". India is one of the largest producers of coal in the world.
The main opposition Bharatiya Janata Party (BJP) says Mr Singh should quit because he was head of the coal ministry at the time of the sales.
The call has left parliament deadlocked since Tuesday. The Congress-led government insists there was no wrongdoing.
'Hand-in-glove'
The demonstrators, who belong to a group led by prominent anti-corruption campaigner Anna Hazare, said both Congress and the BJP are to blame for endemic corruption in Indian politics.
"Our protest today was to tell the country how the Congress and the BJP are hand-in-glove in looting the country," protest leader Arvind Kejriwal, of the India Against Corruption group, told demonstrators.
"We are ready to take blows from the police. We are ready to sacrifice our lives for the sake of our country," Mr Kejriwal was quoted as saying by the AFP news agency.
Mr Kejriwal and several others were briefly detained by police at the protest. A demonstration was also held at the residence of Congress leader Sonia Gandhi.
The scandal - dubbed "coalgate" - is the latest in a series of corruption allegations to hit the Congress-led government, and the revelations have caused widespread anger.
Anna Hazare's campaign for stronger anti-corruption laws came to prominence after he entered a 12-day protest hunger strike a year ago that almost brought the government to its knees.
Earlier his month, he called off his latest protest fast after announcing plans to enter politics. The next general election in India is due by the summer of 2014.