India cricket: Middle-order retirements are end of era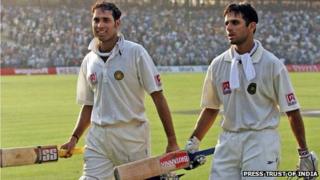 India's ongoing first Test match against New Zealand at Hyderabad marks the end of an era. The recent retirements of VVS Laxman and Rahul Dravid - and Saurav Ganguly before than in 2008 - means that its fabled middle order batting line up is now down to one legend: Sachin Tendulkar. Joy Bhattacharjya reflects on the how the Fab Four resurrected Indian cricket.
Sydney, January 2000.
I had just got off a 15-hour flight from San Francisco. My job was to provide interesting stats for the ESPN commentators covering the India v Australia cricket Test series.
It was day three of a Test match that India was certain to lose.
And then VVS Laxman decided to get going, making bowlers like Shane Warne and Glenn McGrath look ordinary.
The great new Australian fast bowling hope, Brett Lee, went for 52 runs in five overs before skipper Steve Waugh put on part-time bowlers like Michael Slater and Ricky Ponting to slow the scoring.
India lost, but not before Laxman's 167 marked the arrival of a new star on the Indian firmament.
About time too. This was easily Indian cricket's worst hour.
Former Indian captain Mohammed Azharuddin, Ajay Jadeja, Manoj Prabhakar and Nayan Mongia had been dropped after the World Cup and the first two were soon to be banned for life and five years respectively for allegedly fixing matches by the Indian cricket board.
The innards of the India team had been ripped out - and every player was looking over his shoulder, fearing a new purge.
Not the best time for a traditionally tough tour Down Under, where not a single Test looked close.
In fact, India's only win in a three-month tour was in a single one-day-international over Pakistan in a tri-series.
But this was the tour where, according to legend, a compact was sealed.
The new core - Sachin Tendulkar, Rahul Dravid, Anil Kumble and Sourav Ganguly - swore not to let this happen to them again - and lead Indian cricket out of the dark ages.
And the first three happily put aside personal ambition to let Ganguly lead them into a brave new era.
Together with VVS Laxman and Harbhajan Singh - and an incredible last two days at the Eden Gardens, Calcutta, in 2001, Indian cricket began its upward spiral - a phase that lasted right till MS Dhoni's helicopter shot finished off the 2011 World Cup final.
And an end which began with Ganguly's retirement in 2008 will now start its final chapter with the last of the Fab Four standing - Sachin Tendulkar.
When Tendulkar looks around the Indian dressing room at the Rajiv Gandhi stadium at Hyderabad, he will see at least three cricketers who would still not have exited their nappies when he played his first Test match in December 1989 - and another three not old enough to have joined play school.
And Kane Williamson in the New Zealand dressing room was born almost nine months after Tendulkar made his debut.
Keep watching.
Joy Bhattacharjya is the team director for Kolkata Knight Riders, the 2012 winners of the the Indian Premier League