Social media and the India exodus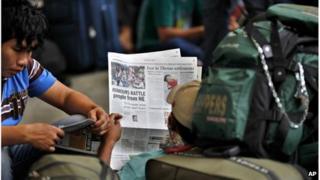 Is social media adding grist to the rumour mills that have triggered the exodus of workers from north-eastern states living in Bangalore and other cities in India?
By all accounts, yes. Threatening text messages sent in bulk - inexpensive in India - were the main vehicle of the insidious rumours that have swirled around in the city for the past two days, driving panic into the hearts of the tens of thousands of people from the north-eastern region living there. The federal government has panicked and banned bulk text messages for a fortnight to stop rumours.
The second wave of rumour-mongering possibly happened through Facebook and Twitter (India has 50m of the 955m Facebook users in the world).
I have been looking at some of tweets circulating in the pell-mell world of social media. "Now almost all north-east people have left our city", one resident tweeted. That means an exodus of 250,000 north-eastern people from the city, which is obviously bunkum (officials say some 15,000 workers have left since Wednesday evening).
Another tweet talked about north-eastern people - "especially business folks" - living in some Bangalore neighbourhoods who have been threatened and asked to leave the city within five days. There is no evidence that it happened. And, anyway, most tweets are silent on the source of the so-called threats. Some journalists didn't help matters by re-tweeting unverified information.
Social media is a mixed blessing, so good sense kicked in soon with senior journalists taking the lead in squelching rumours.
"The exodus is being sparked off by rumours... and those using Twitter/smses [text messages] to spread hate and falsehoods, time all right-thinking Indians isolate them... enough to spew bile on sms/Twitter," tweeted Rajdeep Sardesai of CNN-Ibn news channel.
Barkha Dutt of New Delhi Television (NDTV), a prolific Twitter user herself, said that the site had "become a quicksand of poison, bigotry and malice". Ms Dutt even said those who incited violence on social media should be hunted down and punished.
The social media storm even hit the parliament this morning. An MP belonging to a prominent regional party sought a "shutdown" on the social media sites for "a couple of days" to stop rumour-mongering. No prizes for guessing that he didn't have a clue about how to go about it.
That is where the problem lies. Rumours, as somebody once wrote, are the oldest form of mass media. In the early days they would be spread by word of mouth and travel slowly. Now with mobile phones and social networking sites, rumour - and panic - spread like wildfire, and India's largely technophobic government appears clueless about understanding and dealing with social networking sites.
There was a clumsy early attempt to gag the sites when a senior minister pulled them up for hosting "objectionable content". The sites pleaded that pre-screening of content was impossible. Netizens whipped up a storm of protest at what they believed was an attempt to censor the sites. (Who decides what is objectionable or acceptable?) Soon the chastened minister clarified that there were no plans to censor the sites.
One way is possibly for the government - and politicians - to use social media to engage with the people. Only a handful of Indian politicians - mostly the upper class and English-speaking - use social media to communicate. PM Manmohan Singh has a Twitter account, managed by his office, with over 160,000 followers. Much like the man himself, the content there is useful, but mostly comprising anodyne policy statements.
Social media is like the coffee house of yore, where people drop in to have a chat and share things. Indian politicians should shed their inhibitions to engage with people informally and quicky. If they had reached out that way when the Bangalore exodus began, the situation would have been defused much more quickly.