Vilasrao Deshmukh receives Indian state funeral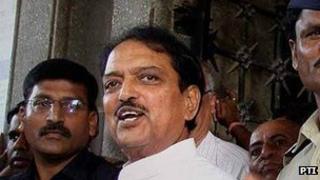 The funeral of former Indian Science and Technology Minister Vilasrao Deshmukh has been held in the western state of Maharashtra.
Mr Deshmukh died aged 67 after a long illness in a hospital in the city of Chennai (Madras) on Tuesday.
He was twice chief minister of Maharashtra state and a powerful regional leader of the ruling Congress party.
He is survived by his wife and three sons.
Prime Minister Manmohan Singh and Congress Party President Sonia Gandhi attended the state funeral, which was held in Mr Deshmukh's native village in Latur district.
Thousands of people lined the roads to get a last glimpse of his body after it arrived in Latur on a special air force plane on Wednesday morning.
Mr Deshmukh was suffering from a liver ailment and had been taken to a hospital in the city for a transplant.
Popularly known as Vilasrao, he had to contend with about 30,000 farmers committing suicide because of failing crops during his stints as chief minister from 1999 to 2003 and from 2004 to 2008.
Prime Minister Manmohan Singh described him on Tuesday as "a valued cabinet colleague and an able administrator".
"We will miss him in the government," Mr Singh said.
Correspondents say however that his reputation was compromised by allegations of corruption in a money-lending scandal and by criticism of his behaviour in the aftermath of the Mumbai militant attacks four years ago.
He denied any wrongdoing.