India's Olympic performance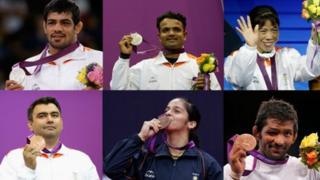 India's haul of six medals, including two silver and four bronze, is the country's best performance to date at the Olympic games. Sports writer V Krishnaswamy looks into the future for team India and how to build on this success.
The world it seems has taken the escalator, but Indians are still using the staircase.
From 1996 to 2004, it was one at a time, then it became three and now that has been doubled to six medals for India at the Olympic Games.
The one gold and two silver swelled to two silver and four bronze - and add to that a lot of near-misses.  
Wrestler Sushil Kumar affirmed his position as India's finest Olympian ever - with due apologies to all those multiple hockey gold medallists - with two individual Olympic medals.
Only a stomach upset between the semis and the final left him with silver and thwarted his quest for India's first gold in London.
He was also at least three inches shorter than Japan's Tatsuhiro Yonemitsu, who two years ago had made use of the 2010 World Champion Sushil's absence to clinch the Asian Games gold in China.
Now it was gold at Sushil's expense.
"Tie-break"
Of India's stars at the London Games, only MC Mary Kom seems to be nearing the end of her illustrious career.
But badminton player Saina Nehwal is just 22, and boxers Devendro and the unlucky Vikas Krishan are still teenagers with a great future.
Even star pugilist Vijender Singh has one more Olympics in him in a higher weight category.
Despite competing in his third Games Sushil Kumar is only 29 - as is bronze medallist Yogeshwar Dutt.
Meanwhile wrestler Amit Kumar, who reached the quarters, is just 19 and was unlucky to get edged out of the sport's version of a "tie-break", when he lost the draw in both "periods".
The current crop of shooters, too, can continue for a long period.
So we could hear of Gagan Narang, Vijay Kumar, Manavjit Sandhu, Ronjan Sodhi and company for some more time to come.
Joydeep Karmarkar came fourth and Heena Sidhu at 21 has a good future in the 10m air pistol.
The statistics, however, can be twisted to provide a cruel picture - with six medals the country's total medal haul represents one for every 20 million Indians!
Yet such sweeping statements would be unfair, simply because India is still not a sporting country.
It is a country that needs much more than Olympic medals - education, health and infrastructure for instance.
Medal-winning disciplines
Two years ago, as a series of scandals threatened to derail the Commonwealth Games in Delhi, the athletes put up India's greatest ever sporting show.
A brilliant opening ceremony was followed by an on-field performance that fetched India 101 medals, including 38 gold.
In terms of gold, India finished ahead of Great Britain and was second only to Australia. It was third in terms of total medals behind only Australia and Britain.
Shooting, wrestling and boxing have not only progressed well but have provided medals for India in the last three Olympic Games.
Badminton is another sport where India - with as many as 10 players in the top 100 of the world - can become a real force.
In comparison Malaysia also has 10 in the top 100, while Denmark has nine, Indonesia seven and China only five - but all are in the top 20.
For the future India would do well to focus on medal winning disciplines.
It is worth nothing that India had seven qualifiers in 10 boxing categories and four in seven categories in wrestling.
Similarly India had qualifiers in 10 of the 15 shooting events.
Medal prospects here are better, simply because participation at the Olympics these days is by-and-large decided through qualification events - not the selection process which has so plagued Indian sport in the past.
Indian sport is now in a good position to build on the Commonwealth Games and the London performance. So the school report card reads: Progress made but could do better.