India wrestler Sushil Kumar aims for Rio gold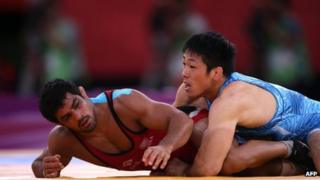 Indian wrestler Sushil Kumar, who won silver in the 66kg freestyle on the final day of London Olympics, has said he wants to take the gold at the 2016 Games in Rio.
Kumar is the first Indian competitor in an individual sport to win medals at successive Olympics - he won a bronze in Beijing.
Kumar lost to Japanese wrestler Tatsuhiro Yonemitsu in the finals.
India won six medals at London in what was its best ever Olympics performance.
Kumar regretted that he could not win the gold in Sunday's bout.
"I didn't come here to be the second best. I came here to win," he was quoted as telling Hindustan Times newspaper. "I fell short. This is not good".
'Done us proud'
Kumar said he had suffered from a stomach infection before Sunday's contest.
"But difficulty and pain are part of the sport, I don't want to make excuses," he said.
Kumar devoted his performance to practising with "good opponents" in India.
"This silver medal has been possible because of them. At the next Olympics it's going to be even better," the 29-year-old wrestler said.
Kumar's achievement has been praised by India's sports stars, and officials have announced cash rewards for the wrestler.
"Sushil has done us proud by winning India its second silver medal," tweeted cricket star Sachin Tendulkar.
"We are proud of his dedication, commitment and effort. Well done Sushil!!"
The government of Haryana state, from where Kumar hails, announced a reward of 10 million rupees ($181,000) for the wrestler.