Pakistani Hindu pilgrims allowed to cross into India after detention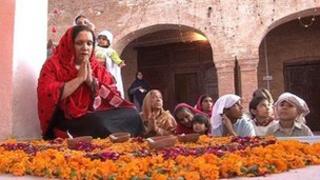 Pakistan officials have allowed a group of Hindu pilgrims who were detained at the border to cross into India.
More than 200 Pakistani Hindus were held at the Wagah crossing near Lahore after local media reported that they intended to emigrate.
Although the group had valid pilgrimage visas, it was rumoured they planned to remain in India because of growing attacks against minorities in Pakistan.
They were allowed to pass after they assured officials they would return.
A spokesperson for the pilgrims, Santosh Puri, told the BBC the group had assured the authorities that "this is a pilgrimage" and no one intends to emigrate.
Pakistani rights activists say dozens of Pakistani Hindu families have moved to India to escape killings, abductions and forced conversions in recent years.
According to Indian officials, Pakistani Hindus have often entered India on visit visas, only to settle there permanently.
In particular, there have been reports of Hindu families leaving Pakistan's Sindh and Balochistan provinces for India to escape violence and discrimination.
Last week, a teenage Hindu girl was abducted in the city of Jacobabad, while about 11 Hindu traders remain missing after they were kidnapped for ransom.
There have also been several high-profile cases of alleged forced conversion to Islam.