Federal detectives probe Assam violence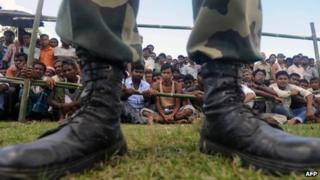 Federal detectives are due to visit violence-affected areas in India's Assam state, where 77 people have died.
The Central Bureau of Investigation (CBI) will be probing whether there was any "conspiracy" behind the violence.
More than 300,000 people have fled their homes after fighting between indigenous Bodo tribes and Muslim settlers in Kokrajhar and Chirang.
There has been tension between indigenous groups and Muslim Bengali migrants in Assam for many years.
Federal Home Minister Sushilkumar Shinde said the CBI - India's leading investigation agency - will "take over certain cases [of violence] where conspiracy seems to be involved for investigation".
Meanwhile senior Assam police official AP Rout told the state-run Doordarshan News that the situation in the violence-hit districts was "under control" and no fresh incidents had been reported.
The army is conducting peace marches in the affected areas, he said.
Police say that the clashes began last month when unidentified men killed four youths in Kokrajhar, an area dominated by the Bodo tribe.
They say that armed Bodos attacked Muslims in retaliation, suspecting they were behind the killings.
Soon afterwards unidentified groups set houses, schools and vehicles ablaze, police said, firing indiscriminately from automatic weapons in populated areas.