Mars mission: Demonstrating India's technology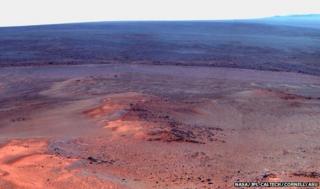 Four years after launching its maiden Moon mission, India has plans to launch a small unmanned satellite to Mars. Science writer Pallava Bagla reflects on what this means for India and the world.
After its successful unmanned Chandrayaan mission to the Moon in 2008 that brought back the first-ever clinching evidence of the presence of water there, India is headed for the Red Planet.
India's mission to Mars will be launched in November 2013 from its space port at Sriharikota on the coast of the Bay of Bengal using the Polar Satellite Launch Vehicle (PSLV) rocket, which has undertaken 21 successful flights, including the Chandrayaan and Moon Impactor lunar probes.
The government has allocated about $41m for the mission - the total cost of the mission will be more than $100m.
Critics of the mission believe the government is being profligate at a time when the country is recovering from two massive power failures and is facing a drought due to weak monsoon rains.
A top government official who prefers anonymity said: "We have heard these arguments since the 1960s about India being a poor country not needing or affording a space program.
"If we can't dare dream big it would leave us as hewers of wood and drawers of water! India is today too big to be just living on the fringes of high technology."
The government says the satellite which will be placed in an orbit around Mars will be able to carry nearly 25kg of scientific payload on board.
The Indian Space Research Organisation (Isro) suggests that the tentative objectives of the mission will be to focus on remotely assessing "life, climate, geology, origin and evolution and sustainability of life on the planet".
"This is technology demonstration project, a mission that will announce to the world India has the capability to reach as far away as Mars," an Isro official said.
Since 1960, there have been 44 missions to Mars with just about half of them being successful; attempts have been made by the former USSR and Russia, the US, Europe, Japan and China.
On Monday, the $2.5bn American spacecraft, Mars Science Laboratory - or Curiosity - is scheduled to touch down on the Red Planet.
The first Chinese mission to Mars called Yinghuo-1 failed last year alongside the Russian Phobos-Grunt mission with which it was launched - so some believe that India is trying to march ahead in what has been described as the "Asian Space Race".
But the global community is getting excited.
"I think there would be considerable interest among internationals to submit instruments to the mission… as this may be the only near-term opportunity," says Jeffrey Plescia, a Mars researcher at the Applied Physics Laboratory, Johns Hopkins University, US.
Pallava Bagla is a correspondent for Science and science editor for New Delhi Television.