India allows Pakistan investment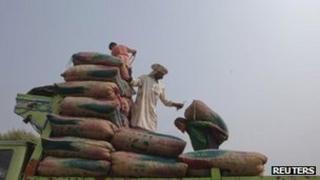 India has announced that it will allow investment from Pakistan in what is seen as a boost for bilateral economic ties.
The commerce ministry said a citizen or a company of Pakistan is permitted to make investments in India.
However, no such investments can be made in defence, space or atomic energy, the ministry said.
India and Pakistan resumed formal peace talks last year after they were broken off following the 2008 Mumbai attacks.
India blamed the attacks on Pakistan-based militants.
A commerce ministry release on Wednesday said all foreign direct investment proposals from Pakistan would need the clearance of the country's Foreign Investment Promotion Board (FIPB).
"It is a great decision... Now Pakistan should also implement the most favoured nation (MFN) trading status to India," Rajiv Kumar of the Federation of Indian Chambers of Commerce and Industry (FICCI) was quoted as saying by the state-run Doordarshan news channel.
Earlier this year, Pakistan indicated that it would offer India MFN trading status, which India has already extended to Pakistan.
The move is part of a pledge made last year to liberalise trade with India. Formal trade between the countries is worth $2.7bn a year, while informal trade, by way of smuggling, is believed to be three times that, experts say.