BBC reporters: India's power failure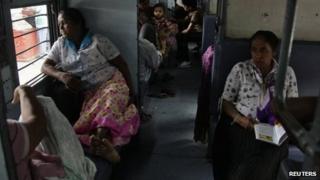 BBC reporters around northern and eastern India describe conditions following a massive power failure.
Ramdutt Tripathi, Lucknow, Uttar Pradesh
There has been no power for hours and there is no sign that electricity will come back any time soon. Shops have stayed open for now but it looks as if they will close as soon as night falls if power is not restored before then. There is no running water, so we are dependent on water tanks.
The sun has been beating down and the heat and humidity are unbearable. Fans and air-conditioners have stopped working - only those with generators can run these.
No lifts are working so those living in apartment blocks face an arduous climb to the top.
My house is near a railway line - electric trains have stopped running but I hear other services may stop too as signals may not be working.
Even in the markets computer-based businesses dependent on credit and debit cards are facing big difficulties. It's a major inconvenience, which has paralysed working life for many here in Uttar Pradesh.
Pratiksha Ghildial, Delhi
There was a big crowd of stranded passengers - college students and professionals - outside Rajiv Chowk, the biggest interchange on Delhi's Metro network. The station was shut for a while after the power went off and reopened after electricity was restored some time later. Most of the network remains closed as power has not been fully restored.
Commuters streamed out of the station, and took buses and auto rickshaws instead to their destinations. Divya, a college student, says she and a friend were stuck inside a train between two stations for about 15 minutes. "The air conditioning stopped working, and the train was packed. People were sweating."
Later the doors opened, and passengers were able to get out of the station. Varun, an engineering student who was also on the train on his day off from college, said he was "sweaty and suffocated" after being stuck inside the train.
Narayan Bareth, Jodphur, Rajasthan
Here in the sweltering desert of Rajasthan, people have been waiting for rain. Electricity is particularly important in the month of July when students go to classes to prepare for exams and academic competitions. They need electricity at night to get their work done.
But this is also the season of no rain when humidity is high, the heat is sweltering and people get taken ill. Hospitals desperately need electricity and will be very worried about what the power cuts will mean.
In Jodhpur, shopkeepers are sitting idly outside their shops unable to handle transactions. People are sheltering under the shade of trees to keep themselves cool and doors and windows have been opened as people try to cope with the intense heat.
Pilgrims who have been making journeys to holy sites on foot have also expressed fears that there may be no light as they sleep on the roadside when night falls. The light gives them a sense of security.
Rahul Tandon, Calcutta, West Bengal
Calcutta is not as badly affected as other areas because it has a private electricity board. But power across the rest of West Bengal state went at 1300 local time (0735 GMT).
The metro has been working but all suburban trains on the eastern railways have ground to a halt from Howrah and Seladah and it looks as if about 40 trains are stranded.