India growth forecast cut by central bank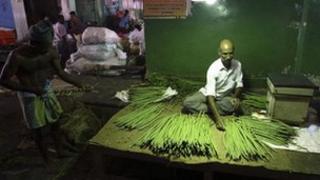 India's central bank has cut its growth forecast for the country which is one of the world's fastest-growing.
The Reserve Bank of India (RBI) lowered India's growth forecast for this financial year to 6.5% from 7.5%.
It also left its key interest rate unchanged at 8% for the second month in a row.
Meanwhile, India's Home Minister Palaniappan Chidambaram has been appointed as the new finance minister in a cabinet reshuffle.
India, the world's second-most populous nation, targets annual growth of 9%.
Last year, the economy expanded by 6.1%, down from 8.2% in 2010.
India's economy grew at an annual rate of 5.3% between January and March, its slowest pace in nine years.
The bank hinted in a recent report that it was unable to cut interest rates further, despite pressure to boost the country's economy, as growth slows but inflation remains high.
Inflation is about 7%, higher than many emerging economies.
Rising consumer prices have been one of the biggest concerns for India's policymakers over the past two years.
The head of the central bank, Duvvuri Subbarao, wrote in a recent report that lowering interest rates would "only aggravate inflationary impulses without necessarily stimulating growth".
He wrote inflation had "persisted even as demand has moderated and the pricing power of corporates weakened".
The central bank has taken various measures in an attempt to control rising prices, including increasing interest rates 13 times since March 2010.