Power cut causes major disruption in northern India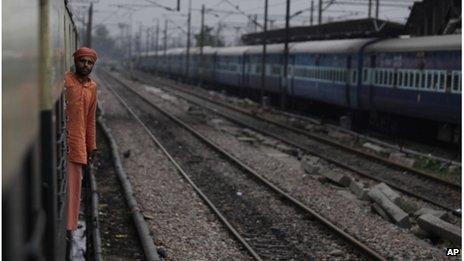 A massive power cut has caused disruption across northern India, including in the capital, Delhi.
It hit a swathe of the country affecting more than 300 million people in Punjab, Haryana, Uttar Pradesh, Himachal Pradesh and Rajasthan states.
Power Minister Sushil Kumar Shinde said most of the supply had been restored and the rest would be reinstated soon.
It is unclear why the supply collapsed but reports say some states may have been using more power than authorised.
Mr Shinde said he had appointed a committee to inquire into the causes of the blackout, one of the worst to hit the country in more than a decade. The committee will submit its report within 15 days, he said.
The power cut happened at 02:30 local time on Monday (2100 GMT Sunday) after India's Northern Grid network collapsed.
Mr Shinde told the BBC that he had been informed about the problem at 05:30.
"Within two hours we tried to restore the railways, airport and Delhi Metro services and power supply to essential services, including the railways and hospitals, was restored by 08:00."
The minister said the exact reason for the collapse had not yet been pinpointed but, in the summer, "states try to take more power from the grid" and at the time of the collapse, the grid frequency was "above normal".
"That is one of the reasons why the grid failed," he said.
By early afternoon, 80% of the supply had been restored, Mr Shinde said.
Monday morning saw travel chaos engulf the region, with thousands of passengers stranded when train services were disrupted in Punjab, Haryana and Chandigarh.
The Rajdhani train from Jammu to Delhi was more than five hours late.
"The train stopped near Panipat station [in Haryana] at about 02:30. For a long time we had no idea what was holding us up," passenger DK Rajdan said.
"Rajdhani is air-conditioned so it was not uncomfortable. But for six or seven hours we couldn't get anything to eat or drink and people were beginning to get worried," he said.
Delhi Metro railway services were stalled for three hours, although the network later resumed when it received back-up power from Bhutan, one official said.
Traffic lights on the streets of the capital were not functioning as early morning commuters made their way into work, leading to gridlock.
Water treatment plants in the city also had to be shut for a few hours.
Officials said restoring services to hospitals and transport systems were a priority.
Power cuts are a common occurrence in Indian cities because of a fundamental shortage of power and an ageing grid. The chaos caused by such cuts has led to protests and unrest on the streets.
Earlier in July, crowds in the Delhi suburb of Gurgaon blocked traffic and clashed with police after blackouts there.
Correspondents say that India urgently needs a huge increase in power production, as hundreds of millions of its people are not even connected to the national grid.
Prime Minister Manmohan Singh has long said that India must look to nuclear energy to supply power to the people.
Estimates say that nuclear energy contributes only 3% to the country's current power supply. But the construction of some proposed nuclear power stations have been stalled by intense local opposition.
Related Internet Links
The BBC is not responsible for the content of external sites.