New India President Pranab Mukherjee is sworn in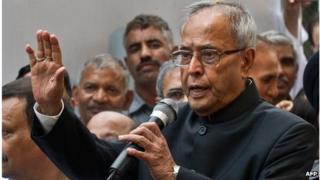 Former Indian Finance Minister Pranab Mukherjee has taken office as the country's 13th president.
He was sworn in by Chief Justice SH Kapadia at the central hall of parliament in the capital, Delhi.
The position is largely ceremonial but he could help determine who forms the next government after elections in 2014 if there is no clear winner.
Mr Mukherjee's term runs for five years. He replaces Pratibha Patil, who was India's first woman president.
The swearing in function was attended by Vice-President Hamid Ansari, Prime Minister Manmohan Singh and cabinet ministers among others.
Mr Mukherjee travelled to the parliament in a bulletproof limousine escorted by guards on horseback and security jeeps.
He was given a 21-gun salute after which he signed the oath amid applause and thumping of desks in the central hall of the parliament.
Mr Mukherjee, a veteran of the ruling Congress Party, was elected by members of the national and state parliaments on Sunday.
Correspondents say Mr Mukherjee's victory has come as a boost to the Congress Party, which has been under pressure over a series of corruption scandals and a slowdown in the Indian economy.
Mr Mukherjee has led several top government ministries during his career, including the foreign, home, defence and trade ministries.
"I have seen vast, perhaps unbelievable, changes during the journey that has brought me from the flicker of a lamp in a small Bengal village to the chandeliers of Delhi," he said in his acceptance speech.