Indian court bans tourism in tiger reserve 'core zones'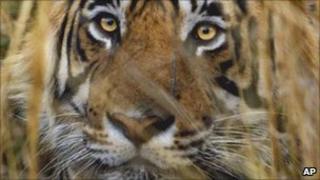 The Supreme Court in India has ordered a ban on tourism in "core zones" of more than 40 of the country's central government-run tiger reserves.
In a landmark ruling, it warned that states that fail to implement the ban face contempt proceedings and fines.
The court imposed fines of 10,000 rupees each ($178;£115) on six states for not complying with its earlier tiger protection directives.
Tiger numbers have shrunk alarmingly in India in recent decades.
A 2011 census counted about 1,700 tigers in the wild.
A century ago there were estimated to be 100,000 tigers in India.
Poaching and conflicts
Conservation groups have welcomed the ruling, describing it as a significant development.
The court was hearing a Public Interest Litigation petition filed by conservationist Ajay Dubey which sought the removal of commercial tourism activities from core or critical tiger habitats in tiger reserves.
Most tiger reserves in India have "core zones".
The reserves also have buffer zones - fringe areas that surround tiger reserves up to a distance of 10km (six miles).
The BBC's Soutik Biswas in Delhi says that while the ruling is important, it is unclear what impact if any it will have on the tourism industry, which is mostly confined to the buffer areas.
The court's order is one of a number of initiatives recently taken by the Indian authorities to conserve tigers.
In February an entire village was relocated in the state of Rajasthan to protect the animals.
Officials say conservation efforts by the government and wildlife organisations have helped tiger populations increase.
But poaching and conflicts between the tigers and people living in and on the periphery of the tiger reserves remains a threat.