Bollywood's Sherlyn Chopra says Playboy shoot 'not easy'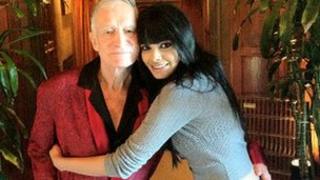 Bollywood starlet Sherlyn Chopra, who will be the first Indian to appear nude in Playboy, has said it was "not easy" to pose for the magazine.
Ms Chopra told BBC Hindi that she could not "miss the opportunity of posing nude for the world's most established adult magazine".
Playboy founder Hugh Hefner has tweeted that Ms Chopra will appear in the magazine's November issue.
The magazine is banned in India but people can access it on the internet.
"It is not an easy task to be nude in front of the camera and look good at the same time," Ms Chopra said.
She revealed that she had written to Playboy expressing an interest in posing - and the magazine got back to her "within three to four days".
'Idol'
"I have become the first Indian to pose naked for Playboy and nobody can take away that achievement from me," Ms Chopra said.
"My sister is proud of my achievement. I haven't told anything to my mother, but I think I will visit her and tell her that she has to accept me the way I am."
The 28-year-old actress, who has played some small roles in Bollywood films, said she had visited Mr Hefner and his friends at the Playboy mansion in Los Angeles.
"I had fun meeting him and his girlfriends. I am thinking of making him my idol because he lives his life on his terms and conditions. I also live my life on my terms and conditions," Ms Chopra said.
Hugh Hefner set up Playboy magazine in 1953.
However, circulation and advertising revenues have been falling with the availability on the internet of free pornography.
Most of India's soft-porn magazines have shut down over the years, as more and more people access pornography over the internet.
That could be one reason why Ms Chopra's decision to appear in Playboy has met a rather lukewarm response in the country, correspondents say.