Pranab Mukherjee tipped to win India presidential poll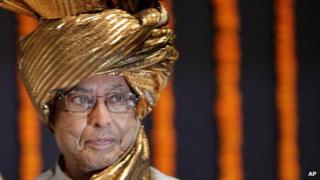 Voting has been held in India to elect a new president.
The front-runner is the country's former finance minister Pranab Mukherjee. He is being challenged by opposition candidate, Purno Sangma.
The position is largely ceremonial, but the new president could play a decisive role in determining who forms the next government when national elections are held in 2014.
The results of the poll are expected to be announced on 22 July.
The winner will replace Pratibha Patil, who was India's first woman president.
Indian presidents are not elected directly by the people but by an electoral college made up of members of parliament and state assemblies.
Brisk voting
Polling began in parliament in the capital, Delhi, and state capitals, at 1000 (04:30GMT). Voting ended at 1700.
Brisk polling was witnessed in the early hours with several ruling party and opposition MPs casting their votes, reported the Press Trust of India news agency (PTI).
About 600 lawmakers had voted within the first two-and-a-half hours of polling, Minister of State for Parliamentary Affairs Rajiv Shukla said.
Prime Minister Manmohan Singh, Congress president Sonia Gandhi and Mr Mukherjee cast their ballots together.
The three were accompanied by Sonia Gandhi's son, Rahul, the latest scion of the Gandhi-Nehru dynasty who many tip as a future prime minister.
After casting his vote, Mr Gandhi said he had decided to take "a more prominent role in government", reports said.
He did not say when or give any more details.
No real power
As one of the country's most experienced and powerful politicians, Pranab Mukherjee, has been nominated for the position by the governing Congress party-led coalition and is expected to defeat his opponent, Purno Sangma, who is a former speaker of the parliament.
Mr Mukherjee has been endorsed by ruling party in Uttar Pradesh, the Janata Dal (United) party in Bihar and the Trinamool Congress party in West Bengal. This support totals more than 50% of the electoral college.
Correspondents say if Mr Mukherjee does win, the result will come as a big boost to the Congress party, which has been under pressure over a series of corruption scandals and a slowdown in the Indian economy.
Mr Mukherjee has headed several top government ministries during his career, including the foreign, home, defence and trade ministries.
The president's tenure is for five years. The president has no real power in India, but can play a critical role during a constitutional crisis.
India's next general elections are due in 2014 and are not expected to throw up a clear winner, which could see the president playing a key role in determining who forms the government.