Vijay Mallya: End of good times?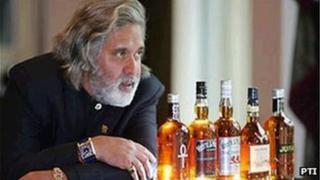 In July 2003, a helicopter carrying Vijay Mallya fell from the sky.
He was headed to a political campaign stop in the southern Indian state of Karnataka when his helicopter dropped 100ft (30m) and was smashed apart on the ground.
Nobody inside suffered more than minor injuries. It was "a miraculous escape", Mr Mallya said, and a crossroads in the life of the liquor baron, who was then not yet 50.
Vijay Mallya is chairman of the business group that produces the most popular alcoholic beverages in India. Half of the beer consumed in the country is one variety or another of Kingfisher. Earlier this year, his company's hard-liquor division, United Spirits Ltd, became the world's largest producer of spirits by quantity.
Boom time
Mr Mallya, who steered the group into its market-ruling position, is still the country's flashiest industrialist.
The United Breweries Group was founded by his father, Vittal Mallya. He had an eye for opportune acquisitions, and timely enlargement of the group's liquor portfolio, which includes McDowell's brandy and Bagpiper whisky.
Vittal Mallya had a reputation as a reserved and modest businessman, possessed of an accountant's skill with numbers.
When he died of a sudden heart attack in 1983, his fast-living son Vijay was elected group chairman.
In the same year, the first moves were made to deregulate India's economy, initiating a boom time in the market for alcohol.
The UB Group leapt ahead of their competition by investing in savvy branding, endorsing the new lifestyles suggested by open markets and new media.
Vijay Mallya seized upon one fad when cable TV first appeared in Indian cities.
According to Kalyan Ganguly, director of UB Ltd, Mallya met an American actor at a party, then "called me and said, this guy, he's a good-looking chap, everybody's watching him. Why don't we create a brand ambassador out of him?"
Before long Ronn Moss - better known as Ridge Forrester from The Bold and the Beautiful - was endorsing Kingfisher.
Far more than Ronn Moss, however, it was Mr Mallya himself who became the face of UB's gaudy, youthful brand image.
"I don't think that he's the personality of Kingfisher," Mr Ganguly says. "He's a serious man who does serious business, but has the ability to be contemporary."
Still, while helping to build the consumer economy, Vijay Mallya also embodied it.
He became a fixture of the public imagination, wearing Ray-Bans and heavy jewellery, frequently on a speedboat in very leggy company.
When India walked, blinking, into the theatre of conspicuous consumption, Mr Mallya was the master of ceremonies.
His houses, alone, could fill a season of Lifestyles of the Rich and Famous: He owns homes in Trump Towers in New York City, overlooking San Francisco Bay, on an island off the French Riviera, on a game resort that he owns in South Africa, and on a beachfront in Goa.
They are extremely private but far from secret: a formula that is concentrated in the plans for his new mansion in the heart of Bangalore.
Three luxury residential towers, the Kingfisher Towers, will support a terrace-plot up in the sky, for his lawns, pool and bungalow.
Eye on the sky
Mr Mallya's preference for the good life blurred into his media appointment as the "King of Good Times".
He has maintained an overt personal involvement in UB's brand extensions: the horse-racing derbies, the Formula 1 team, the annual bikini-calendar shoot, or the Indian Premier League cricket team named after a whisky.
The liquor business itself, however, remained unmistakably the legacy of his father. Its company directors are old hands, hired by Vittal Mallya.
Around the time of the helicopter crash, Vijay Mallya had begun to attend to his own legacy: Kingfisher Airlines.
Mr Mallya always had his eyes on the sky.
In 1986, he proposed a tie-up with the French company Heli-Union to offer helicopter services in India. In the early '90s, an airline service of small turboprop aircraft was mooted but abandoned.
It was only in 2005 that Kingfisher's opulent fleet of Airbus A320s became real. Now Indians could "Fly the Good Times", with indulgent ground and in-flight services.
The mission was personal. As Mr Mallya told passengers in the recorded safety video, he "hand-picked" the cabin crew, whom the airline's publicity called "flying models".
He got himself nominated to the Rajya Sabha, the upper house of parliament, where he nurtured connections that were integral to Kingfisher's early success, especially with Praful Patel, the former aviation minister.
Soaring losses
In the skies, however, the family luck with acquisitions did not hold.
Kingfisher Airlines' fortunes peaked in 2007, the year before it bought out the low-cost carrier Deccan Air.
Today there is more red in the airline's accounts than on its stewardess' designer uniforms.
It has accumulated a loss of more than 5.5bn rupees ($100m), with operating profits reportedly lower than the interest due. Banks have extended a lingering line of credit, drawing fire from analysts.
For most of his career, Mr Mallya belonged in the centre of urban India's fantasy economy, a landscape of yachts, sportsmen, fashion models and roadsters.
Today, however, what surrounds Mallya are the details of urban India's economic nightmare: a government accused of both collusion and obstruction, unpaid employees on strike, fuel shortages, plummeting share values, spiralling debt and a grim sense of payback for naive extravagance. Not to mention cancelled flights.
The endgame for Kingfisher Airlines may be close, but it's unclear where it will leave Mr Mallya, his private wealth and his corporate legacy.
His personal guarantee against some debts may endanger his ownership of integral UB assets.
In recent weeks, separate reports suggested that he would lose control of the Royal Challengers team, his villa in Goa or his real estate in Bangalore, his controlling stake in United Spirits or his remaining stake in United Breweries.
Mr Mallya is lobbying hard for a change in the rules that limit foreign investment in aviation.
If that happens, it will be a second miraculous escape. Otherwise, having raised himself to this altitude, Vijay Mallya has much further to fall.
Raghu Karnad is a Bangalore-based freelance writer and a former editor of Time Out, Delhi.