Doctors suspended in India's Rajasthan for 'gender tests'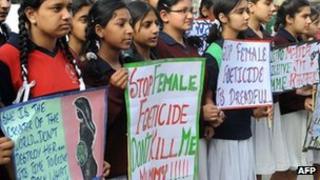 Medical authorities in India's Rajasthan state have suspended 12 doctors for allegedly carrying out pre-natal sex determination tests.
The action was taken after local courts charged the doctors with violating a 1994 law that banned revealing the sex of the foetus to curb female foeticide.
According to the 2011 census, there are 914 girls to every 1,000 boys in India.
Campaigners say the skewed sex ratio is largely due to the availability of antenatal sex screening.
Despite the 1994 ban, officials say pre-natal sex tests are still widely practised.
Rajasthan has only 883 girls in the 0-6 age group for every 1,000 boys and Sriganganagar district, where 11 of the suspended doctors are based, is one of the worst affected by the problem.
Officials say they have filed 308 cases against doctors and ultrasound clinics in the state for violating the 1994 law and so far, 21 doctors have been suspended.