Pakistan cricket team to visit India in December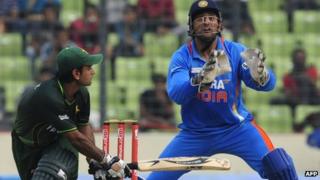 India looks set to resume bilateral cricketing ties with Pakistan after a gap of several years, with plans for Pakistani cricketers to tour India.
India's cricket board says three One Day Internationals and two Twenty20 matches have been planned for December.
Pakistan Cricket Board welcomed the proposal and said that millions of fans would be delighted.
The last bilateral series between India and Pakistan was in 2007-2008 when the Pakistani team visited India.
Cricketing ties were suspended after the 2008 Mumbai attacks, blamed on a Pakistan-based militant group.
Indian government approval is still needed for the series to go ahead but analysts say this is just a formality.
"It was decided to resume cricketing ties with Pakistan by inviting the Pakistan cricket team for a short series in December 2012-January 2013," the Board of Control for Cricket in India (BCCI) said in a press release on Monday.
"The modalities will be worked out shortly," it added.
BCCI vice-president Rajeev Shukla later told reporters that Chennai, Calcutta and Delhi will host the One Day Internationals.
The T20s will be played in Bangalore and Ahmedabad, he added.
Mr Shukla said the home minister and the external affairs minister both knew of the decision and were "totally fine with it".
'Great decision'
The Pakistan Cricket Board (PCB) has welcomed the series with India in five years, reports AFP.
"The decision is great and we welcome it. It seems that millions of cricket fans have their wishes fulfilled," PCB chairman Zaka Ashraf said in Lahore.
"We are still waiting for a BCCI invitation for the series, but it seems it will surely be held later this year," he added.
Correspondents say the proposal to resume cricketing ties is a sign of improving relations between the two countries.
Earlier this month, the foreign secretaries of India and Pakistan met in Delhi and the two sides discussed their willingness to have more sporting contact between the two countries.
The South Asian rivals have played each other in the 2011 World Cup and Asia Cup in Bangladesh recently.