Jagdish Shettar sworn-in as Karnataka chief minister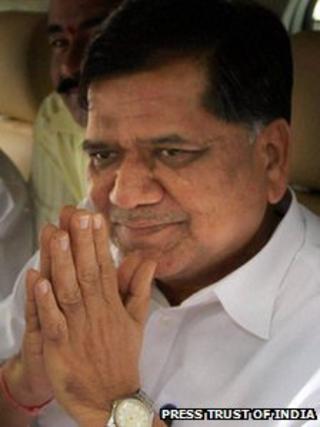 Jagdish Shettar of India's main opposition Bharatiya Janata Party (BJP) has been sworn-in as the new chief minister of the southern state of Karnataka.
Mr Shettar took oath at the Raj Bhavan in the capital, Bangalore, in front of thousands of supporters.
He replaces Sadananda Gowda and is the third chief minister in four years.
Over the last few days, supporters of the former chief minister have held protests against Mr Shettar's election.
Karnataka is the only state in the south where the BJP is in power.
However, the party's rule in the state has been marred by factional feuds and scandals.
Mr Shettar was sworn-in on Thursday along with two deputy chief ministers KS Eashwarappa and R Ashok.
Mr Shettar was elected to be the new chief minister of Karnataka on Tuesday.
The decision to replace Sadananda Gowda was taken after a long campaign by the faction led by another former chief minister, BS Yeddyurappa.
Mr Yeddyurappa was asked to resign as chief minister last year after an anti-corruption report indicted him in a $3bn mining scandal. He denies wrongdoing.
Mr Gowda's exit has led to angry protests by his caste group, the Vokkaligas, who are rivals to the Lingayat community of Mr Shettar and Mr Yeddyurappa.