India police 'killed tribals, not Maoists' in Chhattisgarh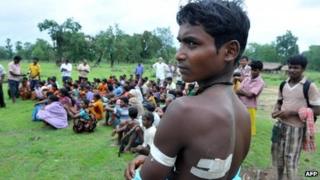 Rights activists in India say 17 people killed by paramilitary police in Chhattisgarh state in June were local tribespeople and not Maoist rebels.
In a new report, the activists said tribals who had gathered for a meeting unarmed had been "slaughtered".
Among those killed were a 12-year-old girl, a 15-year-old boy and two 16-year-old school students.
Police now admit civilians were killed - but say they died in crossfire and were used by rebels as human shields.
To begin with, police had said all 17 people killed in an overnight clash on 29 June in rebel-dominated Bijapur district had been rebels.
Six personnel of the paramilitary Central Reserve Police Force (CRPF) were also wounded, they said.
But within hours, BBC correspondent Salman Ravi in Raipur, Chhattisgarh's capital, reported that locals had held a protest contesting the police claim. They alleged that most of those killed were villagers, not insurgents.
'Without warning'
The report, compiled by the Coordination of Democratic Rights Organisations, was released on Wednesday in the Indian capital, Delhi.
The activists visited the three villages of Sarkeguda, Kottaguda and Rajpenta last week and spoke to the villagers extensively about the incident.
"All those in the gathering were adivasi [tribal] residents of the three villages and [they were] unarmed," the report said.
The villagers told the activists that they were fired upon "without any warning".
"And those who did not die from bullet wounds were killed by the police with axes," they said.
Initially the CRPF said all 17 people killed were Maoist rebels.
But, correspondents say, questions have been raised in the past few days after local media reports accused the security forces of extra-judicial killings.
Subsequently, officials said only seven of the dead were Maoists.
Last week, the Chhattisgarh government announced a judicial inquiry into the incident.
In a statement, Chief Minister Raman Singh said the aim was "to ascertain the chronology of the events, the reasons behind the firing and the identities of those killed".
The Maoists are active in more than a third of India's 600-odd districts. They say they are fighting for the rights of poor peasants and labourers.
Prime Minister Manmohan Singh has described the rebels as the biggest internal security challenge facing India.