India floods: Hundreds of animals killed in Assam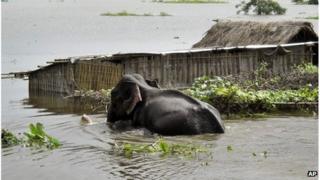 Hundred of animals have been found dead in the Kaziranga national park in the north-east Indian state of Assam, which has been hit by severe floods.
Over 440 animals, including the highly endangered one-horned rhino, have been killed in flood-related incidents, forest official D Gogoi told the BBC.
Kaziranga is home to nearly two-thirds of the world's remaining one-horned rhinos.
The majority of the animals killed - 379 - were hog deer, Mr Gogoi said.
Mr Gogoi said the bodies of 441 animals, including seven rhinos and nine swamp deer, have been found in the flooded national park.
He said two rhinos, who may have escaped the rising waters, have been poached in nearby hills.
Park workers have rescued 94 animals stranded in the waterlogged park, Mr Gogoi said.
"The death toll could rise further. We will assess the damage after the waters recede," he said.
Over 80 people have died and almost one million people have been forced to leave their homes by floods in Assam, officials say.
Officials say this is the worst flood in the state since 1998.