Pranab Mukherjee quits as India's finance minister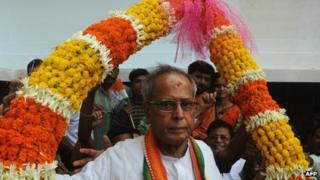 Pranab Mukherjee has resigned as India's finance minister in order to run for president as the ruling Congress party-led alliance candidate.
A front-runner for the presidency, Mr Mukherjee said he felt "a tinge of sentiment leaving my political life of over four decades".
Prime Minister Manmohan Singh is expected to retain the finance portfolio, at least for the time being.
Mr Mukherjee leaves at a time when the economy has been in serious decline.
Congress chief Sonia Gandhi has appealed for cross-party support for the 77-year-old veteran politician.
Elections for India's 13th president will be held on 19 July. The winner will replace Pratibha Patil.
'Humbled, honoured'
Mr Mukherjee met the prime minister on Sunday afternoon and submitted his resignation.
"I stand ready to embark on a new journey," he told reporters before quitting.
"I feel humbled and honoured to be nominated for presidency... Standing on the brink of such an honour, I feel a tinge of sentiment leaving my political life of over four decades.
"Not every decision I have taken may have been right, but I have taken those decisions keeping in view the interests of the people," he said.
The BBC's Shilpa Kannan in Delhi says Mr Mukherjee is seen by many as a successful politician and integral to the Congress party, but he has largely disappointed as finance minister.
His three years in office have seen the economy slowing down, reforms have stalled, investments have been deferred and the rupee has seen one of the biggest declines among Asian currencies, our correspondent adds.
Mr Mukherjee, seen as a close confidant of Mrs Gandhi, is the front runner in the race for president.
The presidency is largely a ceremonial post but with a fragmented electorate often throwing up precariously placed coalition governments, a lot depends on his or her judgement and impartiality.
Mr Mukherjee has held a string of top portfolios during his career, including the foreign, home, defence and trade ministries.