India's BJP nominates PA Sangma for president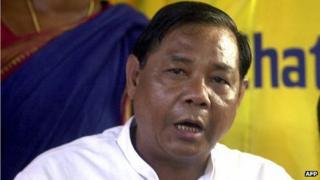 India's main opposition Bharatiya Janata Party (BJP) has named former parliament Speaker PA Sangma as its candidate for the post of president.
Senior BJP leader Sushma Swaraj said Mr Sangma was a "tall leader" and had an "exceptional term as the Speaker".
Last week, the ruling Congress-led alliance declared Finance Minister Pranab Mukherjee as its candidate.
Elections for India's 13th president will be held on 19 July. The winner will replace Pratibha Patil.
She is the first woman to hold India's highest constitutional post.
"Despite two meetings and much deliberations over the presidential candidate, the BJP and its allies have not been unable to reach a consensus on the candidate," Ms Swaraj told a press conference in Delhi on Thursday.
She said the party had also considered former president APJ Abdul Kalam but since he had declined the offer to stand again, the BJP was nominating Mr Sangma.
Ms Swaraj appealed to her party allies to support Mr Sangma's candidacy.
Mr Sangma is now pitted against Mr Mukherjee and Congress chief Sonia Gandhi has appealed for cross-party support for the finance minister.
Two important regional parties, the Samajwadi Party and Bahujan Samajwadi Party, have already announced their support for Mr Mukherjee.
But Mamata Banerjee of the Trinamool Congress, a government ally, has refused to support Mr Mukherjee. It is not yet clear if she will support Mr Sangma.
The presidency is largely a ceremonial post but with a fragmented electorate often throwing up precariously placed coalition governments, a lot depends on his or her judgement and impartiality.
The office of the Indian president is voted on by members in both houses of parliament and regional assemblies.