Pranab Mukherjee nominated for Indian presidential post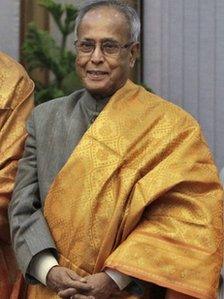 India's Congress-led coalition alliance has declared Finance Minister Pranab Mukherjee as its candidate for the post of the country's president.
Congress chief Sonia Gandhi has appealed for cross-party support for the 77-year-old veteran politician.
"I am grateful to the Congress president for this recognition," Mr Mukherjee said in a statement.
Elections for India's 13th president will be held on 19 July. The winner will replace Pratibha Patil.
She is the first woman to hold India's highest constitutional post.
Two important regional parties, the Samajwadi Party and Bahujan Samajwadi Party, have already announced their support for Mr Mukherjee.
The debate over the presidential candidates had sharpened with Mamata Banerjee of the Trinamool Congress, a government ally, backing former President APJ Abdul Kalam.
The presidency is largely a ceremonial post but with a fragmented electorate often throwing up precariously placed coalition governments, a lot depends on his or her judgement and impartiality.
Mr Mukherjee is seen as a close confidant of Congress party chief Sonia Gandhi.
He has previously held key portolios in the government, including foreign, home, defence and trade ministeries.
The opposition alliance, led by the BJP, has yet to announce its candidate.
The office of the Indian president is voted on by members in both houses of parliament and regional assemblies.
Related Internet Links
The BBC is not responsible for the content of external sites.