India female athlete arrested on 'rape' charges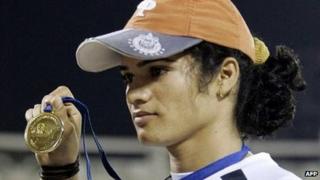 Police in India have arrested a female athlete on allegations of rape and charges that she is actually male.
Pinki Pramanik was arrested in West Bengal state after a complaint from her live-in partner, who is a woman.
A court remanded her in custody until 29 June and asked health officials to carry out a gender test on her.
Ms Pramanik has denied the charges and accused her partner of falsehoods. She has also refused to take a medical test to prove her gender.
"I have undergone numerous tests in my career as an athlete. Why should I agree to more ridiculous tests?" The Times of India quoted her as saying.
Ms Pramanik had won gold in the 4x400m relay in the 2006 Doha Asiad and a silver in the same event at the 2006 Melbourne Commonwealth Games.
She also won three gold medals in the 2006 SAF Games in Colombo when she won the 400m, 800m and 4x400m relay events.
She was arrested on Thursday and appeared in court.
"The complaint stated that the woman athlete was a male and has been cohabiting with her for the past several months with a promise to marry her, but later denied," Press Trust of India quoted a senior police officer in the Baguihati area of Calcutta city as saying.
The Athletics Federation of India said they would wait for the medical report and police investigation before taking any action.