India-US talks held to deepen trade and security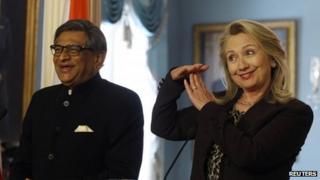 India and the US have held talks to deepen defence trade and co-operation in maritime and cyber security.
US Secretary of State Hillary Clinton and Indian Foreign Minister SM Krishna met for their annual strategic dialogue in Washington on Wednesday.
The two discussed issues ranging from Afghanistan and Pakistan to counter-terrorism and women's empowerment.
The talks were held days after the US exempted India from sanctions in return for cutting imports of Iranian oil.
After Wednesday's talks, Mrs Clinton spoke about a "closer convergence" of strategic interests between the US and India.
She welcomed the progress made in the US efforts to invest in India's civilian nuclear industry.
Mr Krishna said India planned to invest $1 trillion in infrastructure over the next five years, offering enormous business opportunities to US companies.
"India and US support the growing emphasis on defence technology transfers and co-development and co-production in our expanding defence relationship," he said.
Correspondents say defence is now a key area of cooperation, with India signing more than $9bn in defence trade contracts with the US.
Trade has grown from $9bn in 1995 to $100bn this year.
But there are areas of concern - the US wants India to allow greater access to American firms, and a landmark nuclear deal has not delivered the lucrative contracts it promised to.
Over the past few months, a number of senior members of the US administration have visited Delhi, including Mrs Clinton and Defence Secretary Leon Panetta.
US Treasury Secretary Timothy Geithner is expected in the Indian capital at the end of June.