India police quiz guru Nithyananda over assault claims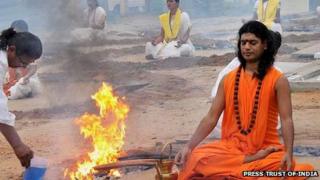 Controversial Indian guru Nithyananda Swami has been remanded in custody for questioning by police over claims of assault.
The guru appeared in court near the city of Bangalore on Wednesday.
He is being held following separate complaints of assault made by a journalist and social activists.
Nithyananda denies all the charges against him. A video which apparently showed him having sex shocked devotees in 2010 - he said the film was fake.
One of the complaints against the guru relates to a scuffle last week at his ashram between his followers and a local reporter.
The reporter filed a complaint with the police that he had been "intimidated and threatened with his life" by the swami's devotees.
Activists from various organisations in the state of Karnataka have also filed a separate complaint of assault against the guru and his followers.
But Nithyananda's supporters have filed a counter-complaint accusing the activists of attacking women devotees.
On Tuesday, police raided the swami's ashram on the outskirts of Bangalore following reports that he had absconded.
As Nithyananda arrived in court in Ramanagara, 35km (22 miles) from Bangalore, on Wednesday, protesters gathered outside and shouted slogans against him. He was accompanied by his lawyers and a few devotees.
Senior police officer Anupam Agarwal told the BBC that Nithyananda had been taken into "protective custody" for questioning. He said there were also fears that the guru could be attacked by the public.
The Karnataka government has ordered an inquiry into the charges of irregularities in the ashram and asked the authorities to seal it until the inquiry is over.
In April 2010, Nithyananda was arrested after a video apparently showed him engaging in a sexual act with a film actress. He said he was innocent and the video was a fake. He was freed on bail two months later.
He is also facing a summons from a US court in connection with a sexual harassment case.
He has a huge following in southern India and his mission has branches in several countries, including the US and Europe.