Letters about Mahatma Gandhi to be auctioned in UK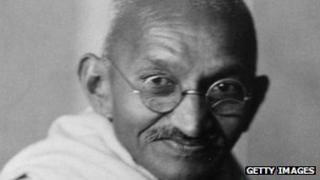 Thousands of letters, papers and photographs relating to Mahatma Gandhi, will be auctioned by Sotheby's in England next month.
The archive belonged to Hermann Kallenbach, the Jewish bodybuilder, who became a close friend of Gandhi when he lived in South Africa.
The collection, which is arranged in 18 files, is expected to fetch between £500,000-£700,000 ($777,000-$1.1m).
Gandhi is revered in India and fondly known as the father of the nation.
'Unknown and unpublished'
Most of the letters were written by family, friends and others with very few written by Gandhi himself.
"It is very much material that will be adding to our sum knowledge of Gandhi and his life," Gabriel Heaton, a books and manuscripts specialist at Sotheby's, told Reuters news agency.
Mr Heaton said that most of the papers were "unknown and unpublished" and "not been used by scholars in the last generation or two".
Hermann Kallenbach and Mahatma Gandhi met in 1904 in South Africa and their relationship was at the centre of a controversial book released last year.
Great Soul: Mahatma Gandhi and His Struggle With India, written by Pulitzer Prize winning author Joseph Lelyveld, alluded to a very intimate relationship between the two men.
But Mr Lelyveld denied all claims that he called Gandhi a racist or bisexual in the book.
Many of the letters going on sale are written by Gandhi's sons, which give an insight into his life after he returned to India.
The Indian government had sent a team to Israel to try and buy the collection from Kallenbach's niece, but failed because of the high asking price, according to The Times of India newspaper.
Earlier this year, soil and blades of grass with Gandhi's dried blood were sold for £10,000 at an auction in England.