India-US strategic dialogue to strengthen ties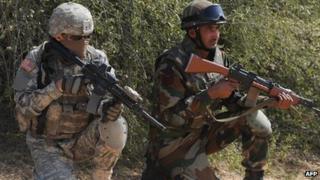 The US-India strategic dialogue, which begins on Wednesday in Washington, is expected to further augment bilateral military ties through arms sales, collaborative defence research and weapons development programmes and joint manoeuvres.
Setting the tone for the third bilateral strategic dialogue since 2010, US Defence Secretary Leon Panetta declared in Delhi on 6 June that India was the "linchpin" in Washington's "rebalanced" security architecture in the Asia-Pacific region by 2020.
Defence co-operation with India, Mr Panetta said, underpinned this fast burgeoning strategic partnership as the US expanded both its presence and military alliances from the western Pacific rim and East Asia to the Indian Ocean Region and further afield into South Asia.
In thinly veiled references to the US and India developing a joint containment strategy against an economically rising and increasingly militarist China, the US defence secretary said enhanced bilateral military ties and commerce could be fruitfully achieved by discarding "bureaucratic red tape".
To secure this, a senior Pentagon officer would soon be engaging Indian leaders in a new initiative to make defence trade "simple, responsive and effective", Mr Panetta said.
'Long-term strategy'
In wooing India, Mr Panetta dismissed as "unnecessary" the long outstanding and potentially prickly issues like inking the Logistics Support Agreement (LSA), the Communication Interoperability and Security Memorandum Agreement (CISMOA) and Basic Exchange and Cooperation Agreement for Geo-Spatial Cooperation (BECA).
"Not signing these agreements is no barrier to furthering bilateral military relations," the defence secretary unexpectedly declared in what many analysts consider to be a major shift in the US policy.
The US, he said, was firmly committed to providing the best defence technology possible to India.
A close partnership with America, added Mr Panetta, would be key to meeting India's own stated aims of a modern and effective military to meet emerging security challenges like terrorism, piracy, proliferation of weapons of mass destruction and regional instability.
Whilst the LSA permits the reciprocal use of maintenance, servicing, communications, refuelling and medical care facilities to the two militaries, the other two covenants are essential for the transfer of secure and encrypted communication systems aboard US military platforms.
These include transport and maritime surveillance aircraft and helicopters that India has acquired or is on the verge of procuring.
India believes the LSA compromises its strategic autonomy as it could drag Delhi into possible US conflicts in Asia and the Middle East and that CISMOA and BECA could imperil its operational autonomy whilst employing US equipment.
Counter Chinese threat
"Other than obvious commercial interests which are vital in an economically shrinking market, the US is keen to invest militarily in India which, it believes, with Washington's help and hardware can emerge as a counterweight to China's growing financial and military mite," said former Brigadier Arun Sahgal of the Institute of National Security Studies in Delhi.
"Equipping India's military with US military hardware is an important part of this long-term strategy although nobody articulates these sentiments openly," he added.
The US and Indian militaries view China as a fast emerging threat and share an interest in understanding and countering Chinese strategic intent, but do not publicly discuss such matters.
Both are specially concerned over heightened Chinese naval activity in the Indian Ocean region through which the bulk of the world's trade, particularly oil and gas, passes.
After 2002, when Washington lifted sanctions on India for its multiple nuclear tests, India acquired US defence equipment worth over $8bn (£5.2bn).
At present, it is either evaluating or negotiating the acquisition of materiel worth an equal amount which, like all earlier procurements, would be via the government-to-government foreign military sales route.
The US registered its first military sale to India after over four decades in October 2002 when it supplied the Indian army 12 artillery locating radar for $142.4m (£91.8m).
Thereafter, it agreed the $962m (£620m) deal for six Lockheed Martin-built Hercules C-130J military transport aircraft, all of which have been delivered. An additional order for an equal number of C-130Js is under process.
And last June, in its single largest defence deal with the US for $2.4bn (£1.5bn), the Indian air force confirmed the acquisition of 10 Boeing C-17 Globemaster III Very Heavy Lift Transport Aircraft.
An additional six to 10 C-17s being acquired to expand the air force's strategic lift capability will also make the force the world's second largest operator of these aircraft after the US air force.
"Over the long term we will transition our defence trade beyond the buyer-seller relationship to substantial co-production and eventually high technology joint research and development," Mr Panetta said.
Bolstering these mushrooming protocols are bilateral multi-service exercises, of which India and the US have conducted over 50 since 2001, to enhance "functional interoperability" between their armed forces.
India has also allowed the US army access to its counter-insurgency jungle warfare school in the northeast and permitted US special forces to conduct joint manoeuvres in Kashmir's mountainous regions.
Military officers believe this collaboration will proliferate exponentially following this weeks strategic dialogue.