The soaring arias from India
By Chryselle D'Silva Dias
Goa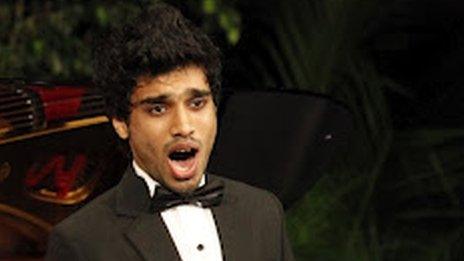 Singing for the Queen was never on Mumbai-born Oscar Castellino's to-do list.
Yet, barely nine months after he joined London's prestigious Royal College of Music (RCM) for a Bachelor in Music Honours degree, he was invited to be part of a handpicked RCM Choir to serenade the Queen as part of the Thames Diamond Jubilee pageant on 3 June.
Castellino, 26, was one of 12 present and past students of the RCM chosen for the choir. The invitation came as a complete surprise.
"It was such an honour that I did not expect it to come my way being in my first year," he said.
On a barge with the London Philharmonic Orchestra, conducted by David Parry, the choir provided (through pouring rain) the grand musical finale to the pageant, singing traditional British songs including Land of Hope and Glory and Rule Britannia.
Castellino grew up in Mumbai where his father's love for Latin Church music eventually introduced him to opera.
His dream of learning to sing, though, was realised only as recently as 2010, when London-based soprano Patricia Rozario brought her "Giving Voice to India" project to Mumbai.
Giving Voice to India aims to improve the singing of Western music in India, whether chorally or as soloists, for fun or with a view to making a career in music.
Ms Rozario and pianist-broadcaster Mark Troop visit India three times a year to conduct intensive week-long workshops in Mumbai and Goa. This year, they will be adding Pune and Ahmedabad to their list as well.
Ms Rozario recalls being "very impressed" with Castellino.
"Oscar is a very talented singer, and we noticed him immediately at our very first course in Mumbai. As a student he has been exemplary - responding well to instruction and backing up his work with investigations of his own."
At the time, Castellino was working in software but spent all his spare time reading up on music and listening to lectures and masterclasses online. He even took a course in German to help him with the singing.
Since that first workshop in 2010, Castellino has worked with Ms Rozario on repertoire and technique.
He successfully auditioned for one of 10 places for the four-year full-time Bachelor in Music Honours degree at the Royal College of Music and was selected from 600 applicants worldwide.
Like Castellino, Indians are waking up to the beauty and potential of western classical singing.
Amar Muchhala, 33, took to opera and western music while studying for a business degree in the US.
"I was being groomed to return to India and be a part of my family's business," he said. Instead, Muchhala returned home to Mumbai and convinced his parents to let him study music in London.
"It is very difficult changing a mindset when you are not surrounded by that kind of music," he said.
Muchhala moved to London in 2003 to study at the Guildhall School of Music and Drama where he completed a Bachelors in Music (Vocal Performance) followed by a two-year opera course.
He now works with professional opera companies including Opera North and The Opera Group. He is looking forward to working with The Royal Opera House in 2013.
Joanne D'Mello learned classical singing from a young age in Goa.
She credits her teacher Juliana De Sa for introducing her to arias and songs in foreign languages. "I found it so inspiring that I wanted to sound just like them. So I kept at it for years," she said.
D'Mello then worked with Ms Rozario to develop her voice further. After her undergraduate degree in Goa, she auditioned for the RCM and has recently completed her Bachelors in Music.
She is currently at the Flanders Opera studio in Belgium where she is continuing her studies and looking for opportunities to sing.
Being of Indian origin does not seem to be a deterrent to these singers.
"The scene in opera is so different from what it used to be. Opera houses are keen to hire people irrespective of where they come from, if they sing well," D'Mello said.
Finances, though, are a hindrance - the fees to conservatories like the RCM are prohibitive for the average Indian. Many singers scrape through with scholarships and part-time jobs.
"We need work-permits to be in the UK and when we are not performing, it will be nice to come back to India and give recitals here," Muchhala said.
"We want to create a situation where young Indians studying music abroad increasingly look to India to supply a percentage of their professional work," Mr Troop said.
"This will not be an overnight process. But it will happen, and we are advising Indians studying abroad not to neglect their homeland, but to seek every opportunity to come home to teach and play concerts - to create this hunger for western music."
Chryselle D'Silva Dias is a freelance journalist based in Goa