India plans infrastructure push to boost economy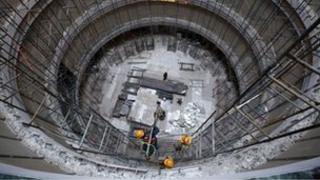 India's government has pledged to move ahead with major infrastructure projects to give a boost to the country's slowing economy.
India plans to build new highways, airports and ports, among other things during the ongoing fiscal year.
The economy grew at the slowest rate since 2003 in the first three months of 2012, because of a widening trade gap and poor investment.
India is the third-largest economy in Asia.
But it has been struggling with inflation and currency weakness. Domestic demand, which India's economy is largely reliant on, has also slowed in part due to the political upheaval in the country.
During a meeting with his ministers on Wednesday, Prime Minister Manmohan Singh said after years of high growth India is "now running into more turbulent weather".
"In these difficult times, we must do everything possible to revive investment and business sentiment, both public and private," he said.
Mr Singh unveiled a series of projects to kickstart investment. Among them are:
Contracts to build 9,500km of roads
Three new airports at Navi Mumbai, Goa and Kannur. At least "three or four" of five airports - Lucknow, Varanasi, Coimbatore, Trichy and Gaya - are to be upgraded to international standard
Two new aviation hubs to make India a major transit point
Two new ports in Andhra Pradesh and West Bengal
Mr Singh said building infrastructure needed about $1tr in the next five years, and the government alone would be unable to invest the amount.
"Therefore, importance is being given to public-private partnership. Achieving targets in key infrastructure sectors is key to success and will inspire confidence about the overall economic growth rate," he said.