India defends $63,000 spending on toilets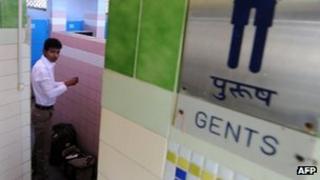 The Indian government has defended spending 3.5m rupees ($63,146; £40,830) on renovating toilet blocks in a government building.
The Planning Commission said the spend was on "routine" maintenance work in toilets which were for public use, not just for officials.
The commission said it had introduced smart cards for users to stop thefts.
The spending on the "swanky" toilets has been widely criticised with many calling it "wasteful".
Earlier reports said the money had been spent on sprucing up two individual toilets at Yojana Bhawan, the more than five decade-old office building in central Delhi that houses the Planning Commission.
In a statement, the Planning Commission said that the money was spent on renovating three blocks of toilets in the building which is visited by hundreds of people daily and annually hosts more 1,500 meetings.
"A common complaint over the years was the poor quality of the toilets in the building - not just by the ministers and foreign dignitaries who visit, but also by the staff and the journalists," the Planning Commission said in a statement on Wednesday.
"While renovating the toilets, it was found that old plumbing and sewerage systems had deteriorated, and needed almost complete replacement. Fire control systems also had to be added, in accordance with the regulatory requirements."
The statement said security cameras had been installed in the corridors leading to the toilets to prevent theft of equipment.
"The entire work is being done within the budgetary allocation and following the prescribed procedure," it added.
Earlier this year, the commission was criticised for saying that an Indian who spent just 44 cents on food, education and health a day was not "absolutely poor".