Sachin Tendulkar takes oath as Indian MP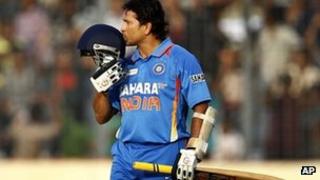 Indian cricketer Sachin Tendulkar has taken oath as an MP in India's upper house of parliament, the Rajya Sabha.
With this, he has become the first cricketer to take a seat in the upper house of India's parliament.
There have been several film personalities in the upper house in the past and poet and scriptwriter Javed Akhtar and Bollywood actress Rekha are currently MPs.
Tendulkar is the first cricketer to score 100 international centuries.
The 39 year-old cricket star is revered by millions of Indian cricket fans.
The cricketer was sworn in by the Rajya Sabha Chairman Hamid Ansari on Friday morning. He was accompanied by his wife Anjali.
'New avenue'
"I am here because of my cricketing career, I won't leave playing cricket," Tendulkar said after taking the oath.
"I want to raise issues related to sports in parliament," he said.
On Sunday, Indian cricket captain Mahendra Singh Dhoni said he was confident Tendulkar would be as successful in parliament as he had been in the field.
Tendulkar made his international debut in 1989 and has played 188 tests and 463 one-day internationals.
Tendulkar's nomination last month surprised many in India and some criticised the "apolitical" cricketer for accepting the offer from the ruling Congress party.
Of 250 Rajya Sabha members, 12 are nominated by the president for "special knowledge or practical experience in respect of such matters as literature, science, art and social service", according to the constitution.
India's home ministry finalises the nomination list only after getting the consent of the people they recommend.