India yoga guru Baba Ramdev to launch protest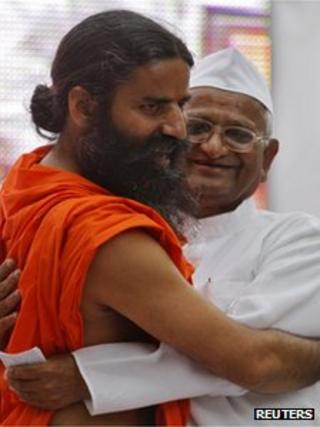 Indian yoga guru Baba Ramdev has said he will launch a protest in August unless the government brings back illegal money in foreign banks.
He made the announcement during a hunger strike with campaigner Anna Hazare to protest against corruption.
Reports say $500bn of illegal money was deposited in overseas tax havens.
The government has proposed setting up fast-track courts to deal with the two contentious issues of illegal money and tax evaders.
Baba Ramdev joined leading campaigner Anna Hazare on Sunday to undertake a day-long fast in protest against corruption, illegal money and strong anti-corruption laws.
Mr Hazare, who has been campaigning for a strong anti-corruption bill, has already announced a protest in August if the government did not investigate "allegations of corruption" against 14 ministers.
The Lokpal bill has passed in the lower house of parliament but the upper house adjourned amid chaos in December without passing the controversial legislation.
Baba Ramdev urged Prime Minister Manmohan Singh to pass a strong anti-corruption bill.
"Your personal honesty is not enough. You have to be politically honest too. You have to keep your cabinet honest," he said.
Last June Baba Ramdev held a nine-day anti-corruption hunger strike before the police cracked down and evicted him from the capital Delhi.
The yoga guru has millions of supporters and his daily TV programme is watched by millions across India.
A recent survey said corruption in India had cost billions of dollars and threatened to derail growth.