Indian private army chief shot dead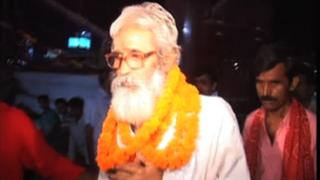 The head of a banned upper caste private army has been killed by unknown gunmen in the northern Indian state of Bihar, police say.
Brahmeswar Singh headed the Ranvir Sena, an organisation alleged to have carried out numerous mass killings of low caste villagers.
Police said that Mr Singh was accused of more than 200 murders, all of which he denied.
Rural Bihar is a feudal society where caste barriers are rigidly enforced.
Police said Mr Singh, who was also known as Barmeshar Mukhia, was gunned down by unknown assailants in Ara in Bihar's Bhojpur district.
He formed the Ranvir Sena in 1992 and fought with lower caste groups and Maoists who opposed the upper-caste landlords.
Mr Singh spent nine years in prison on various charges and was released on bail in May 2011.
His private militia was accused of carrying out several massacres, including one in Lakshmanpur Bathe area in 1997, in which 58 dalits or "untouchables" were killed.
Mr Singh always said he was fighting for the rights of farmers.