New Indian army chief Bikram Singh takes over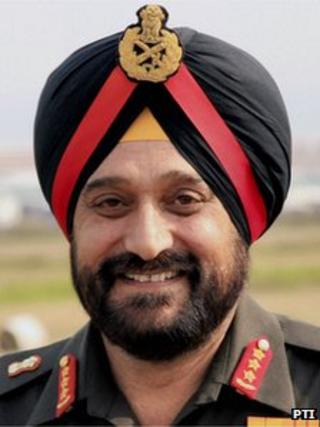 General Bikram Singh has taken over as the chief of India's army promising to modernise the 1.1 million-strong force.
Gen Singh takes over at a time when the army has been involved in a series of controversies with the government.
The outgoing chief, Gen VK Singh, was involved in a row with the government over his retirement age.
And a controversial letter he wrote to the prime minister complaining that much of India's defence equipment was "obsolete" was leaked to the press.
The appointment of Gen Bikram Singh as the army chief was also challenged in court.
A group of retired armed forces officials and bureaucrats alleged that he was involved in a staged killing in 2001.
Gen Bikram Singh denies the allegation.
In April, the Supreme Court rejected the petition and said it saw no reason to intervene in the matter.
On Wednesday, a day before taking over as the army chief, Gen Bikram Singh said he would work to "strengthen army's work culture and core values".