A card that fosters national identity in Bangladesh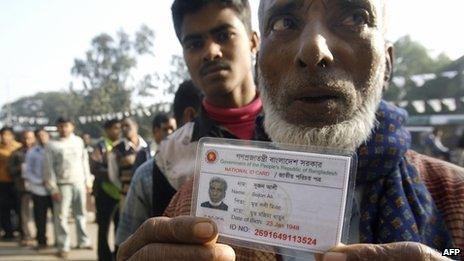 Bangladesh's voter identity card has become so vital to everyday life that those who do not have it can find themselves facing real difficulties, writes Akbar Hossain from Dhaka.
Anwar Hossain was away from home in 2007 when the enrolment process for the voter identity card took place, so he was never enrolled.
He recently had to get a special document from a local official to prove his identity in order to get a job as a driver with a private company.
"I manage to get most tasks done with a birth certificate. But still I'm facing trouble for not having this card," he says.
For most Bangladeshis, the card is required for accessing government and non-government services.
It has become mandatory for opening a bank account or getting a new mobile phone connection.
A military-backed caretaker government in 2007 started the initiative to introduce a national photo identity card and electoral roll.
At the time, Bangladesh's two main political parties were involved in a heated row about alleged fraudulent election lists.
The project eventually turned into a national identity card scheme.
"Making up a voter ID card for the entire electorate was very expensive. That's why we recommended the voter ID card for a wider use to justify its cost. We recommended the ways and means, and the armed forces implemented the process," says Professor Jamilur Reaza Chowdhury, a technology expert who was one of those in-charge of implementing the scheme.
There were also concerns at the beginning that the public might resist the idea.
"We were worried about the acceptance of a photo card among common people, specially amongst women in conservative rural areas," says the then Election Commissioner M Shakhawat Hossain.
But, with the help of local religious leaders, non-governmental organisations and women's groups, the project did get off the ground.
One of the spin-offs has been the fact that the card has helped to foster the notion of national identity.
"Now I get the feeling that I'm a citizen of Bangladesh. I can say that because I have the voter ID card," says private sector employee Milon Rahman.
"This card proves that identity."
In fact, it is so established now in everyday life that it is taken for granted by many people.
"I never think about the official purpose of this ID card. It's more the fact that I'm a citizen of Bangladesh," says housewife Aklima Akhtar.
The card - given to all those eligible to vote - carries the person's name, parents' name, date of birth, address and a number.
After the success of the first phase, the Bangladesh election commission is now planning to extend the scheme to add another six to seven million eligible people to the 75 million who have already been registered.
Related Internet Links
The BBC is not responsible for the content of external sites.