India Kerala Communist leader says party kills rivals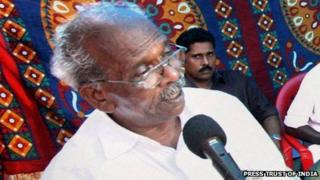 Police in India's Kerala state have registered murder charges against a local Communist leader who recently told a rally that his party had killed political rivals in the past.
MM Mani said they would continue to do the same in the future.
His comments related to political killings in the state's Idukki district in the 1980s.
The Communist Party of India (Marxist), of which Mr Mani is a member, has distanced itself from the statement.
The party's state secretary Pinarayi Vijayan said Mr Mani's speech was a "mistake and against the political line of the party".
Mr Mani has been charged with "murder, conspiracy and destroying evidence", Idukki police superintendent George Verghese told the BBC on Monday.
The state's Home Minister Thiruvanchoor Radhakrishnan said the government would allow the "law to take its own course".
Mr Mani later said he was only narrating the history of resistance put up by the party in the past during adverse political situations.
Correspondents say his comments have come as a major embarrassment to the state CPI(M) whose activists are under arrest in connection with the recent murder of a party rebel, TP Chandrasekharan.